The Minolta 9 is an auto-focus 35mm SLR film camera made by Minolta. It is known as the Maxxum 9 in the USA, Dynax 9 in Europe, and α-9 in Japan.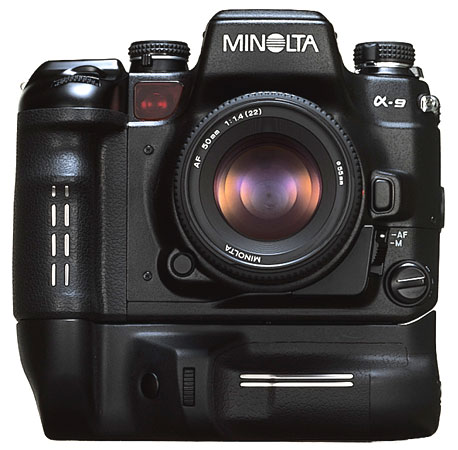 Has a Minolta A-type (Sony A-type) bayonet lens mount, supporting a multitude of auto-focus lenses. To support the most recent SSM lenses the camera requires an upgrade (no longer available).
The camera build is robust, with rubberized and weatherproof controls. Later version models include the rare 9Ti build with a titanium body, but functionally the same.
The camera has a focal plane shutter running from 30s - 1/12000s, with flash synch at 1/300s. The camera has a built-in flash.
Specification
| Characteristics | Description |
| --- | --- |
| Camera Type | 35mm SLR with built - in flash, autoexposure (AE), and multi - dimensional predictive autofocus (AF) |
| Lens Mount | Minolta A - type bayonet mount |
| Film Type | 35 mm film |
| Eye - start Automation | AF and AE automatically activated/deactivated by combination of eyepiece and grip sensors. Eye - start is turned on/off by eye - start switch. |
| AF Sensitivity | EV -1 to 18 (at ISO 100) |
| Shutter Type | Electronically-controlled, vertical-transverse, focal-plane type |
| Shutter Speeds | 30 sec. - 1/1200 sec., bulb |
| Flash sync speed | 1/300 or slower (synchronizes with all speeds in HSS mode) |
| AF Modes | Single - shot, Continuous, Automatic autofocus mode |
| AF Sensitivity Range | EV -1 to 18 (at ISO 100) |
| AF Illuminator | Built - in 3 - beam LED; automatically activated in low - light/low - contrast situations; range: 0.7 - 7 m (based on Konica Minolta's test methods with standard 50mm lens) |
| Focus Area | Wide focus area |
| Data Memory | Stores photographic data of up to 7 rolls of 36 exposures on aperture, lens focal length, exposure compensation/exposure bracketing increments, shutter speed, flash compensation/flash bracketing increments (including flash on/off status), exposure mode, and metering mode. |
| Power | Two CR123A lithium batteries |
| Dimensions (WxHxD) | 155 x 111 x 75 mm |
| Weight | 945 g (w/o camera battery) |
Focusing Screens
| Product Number | Focusing Screens | Description |
| --- | --- | --- |
| 8236-100 | Focusing Screen 9 G for Minolta 9 | Spherical Acute Matte Standard Focusing Screen |
| 8236-200 | Focusing Screen 9 S for Minolta 9 | Spherical Acute Matte Focusing Screen with scales with axes and adjustment graduation |
| 8236-300 | Focusing Screen 9 L for Minolta 9 | Spherical Acute Matte Focusing Screen with grid with three horizontal and five vertical lines |
| 8236-400 | Focusing Screen 9 M for Minolta 9 | Super Spherical, more granular ground glass for easier manual focusing |
| 8236-500 | Focusing Screen 9 MII for Minolta 9 | Super Spherical with particularly special grainy screen for easier focusing with very fast lenses |
| 8236-600 | Focusing Screen 9 ML for Minolta 9 | Super Spherical a combinatination of M and L screens |
Vertical Grips
| Product Number | Reference | Description |
| --- | --- | --- |
| ? | VC-9M | Vertical Control grip for Dynax/Maxxum/Alpha 9/9Ti (Magnesium alloy). Uses either one 2CR5, two CR123A or four AA batteries. Comes with HS-1. |
| 8788-101 | VC-9 | Vertical Control grip for Dynax/Maxxum/Alpha 9/9Ti. Uses either one 2CR5, four AA or two CR123A batteries. Comes with HS-1. |
Cases
| Product Number | Reference | Description |
| --- | --- | --- |
| 6098-540 | CS-9M | Camera Soft Case for Dynax/Maxxum/Alpha 9/9Ti |
| 6098-530 | CS-9S | Camera Soft Case for Dynax/Maxxum/Alpha 9/9Ti |
Other Accessories
| Product Number | Reference | Description |
| --- | --- | --- |
| 8789-101 | DM-9 | Date Memory Back - can store exposure data for up to 400 rolls of 36 exposure film on a 2MB SmartMedia card. The saved data can be displayed in the data panel or on your home compute. Can also imprint aperture/shutter speed data, frame count, film ID, the date, or the time of exposure in between frames. |
| 8790-100 | QD-9 | Quartz Date Back - record the time or date in the lower right-hand corner of each frame |
| 6098-710 | WS-2 | Wide Strap Set |
| 6098-730 | HS-1 | Holding Strap |
| 8699-130 | CR-123A | Lithium Battery |
| 8233-700 | EC-9 | Eyepiece |
| 60806-700 | SC-9 | Accessory Shoe Cap |